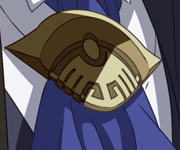 The Sacred Shield, "Ritter Schild" (聖盾), is a group of In-Birth that dedicate themselves to the investigation of the Hollow Night. They have close ties to the Licht Kreis, and can be considered a brother organization of sorts.
History
Ritter Schild is an independent branch organization that split from the Licht Kreis when they no longer accepted males as their members after Waldstein's defection. The organization is usually referred to as "The Shield that protects the Licht Kreis".[1] However, despite this role, the relationship between the two organizations is incredibly strained.
Information
Unlike the Licht Kreis, who specialize in fighting and Void extermination, Ritter Schild refer to themselves as an "Inspection Organization" (監査組織) that specializes in information gathering and aiding the Executors activities. They have dedicated themselves to solving the mysteries surrounding the Hollow Night.
Ritter Schild has also played a hand in the development and manufacturing of various weapons used by the Executors of the Licht Kreis.[1] Using data gathered from analyzing the EXS Abilities and skills of other In-Births, Ritter Schild base their weapons off the strengths and weaknesses of their members in order to make full use of their true potential.
Despite their more laid back role within the Licht Kreis, Ritter Schild still has plenty of formidable and powerful fighters at their disposal.
Known Members
References