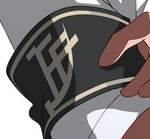 The EFG (Exist Force Guardians) is a vigilante organization run by students.
Information
The Exist Force Guardians are a vigilante organization run by the Student Council of the school where Tsurugi and Hyde attend. They have about 50~60 members at the moment.[1]
Their operations include patrolling the nearby areas for any Void activities and counselling the students victimized by the Voids. The EFG also heads to the Hollow Night to bodyguard newborn In-Births.
The EFG scout newly awakened In-Births and teach them how to use their new powers to control EXS. They also give strategical advice, like telling what weapon is a good combination with one's abilities. In exchange for their knowledge, the new members are kept under a strict discipline and they are not allowed to use their powers freely.
There are five key members who operate this organization:
The Council President, Vice-President, Secretary and two others.[1]
Known Members
| Image | Name | Alias | Rank | Note(s) |
| --- | --- | --- | --- | --- |
| File:Unknown.png | Unnamed Student Council President ("Sasaki") | | Leader | |
| | Tsurugi | | Vice-Leader | "Head of Operations" |
| | Komatsu | | Secretary | |
| | Phonon | "The Chemeti" | | A Former Member |
References