Cradle in Doom



Kanji:

終焉の揺り籠

Title:

Official: Cradle in Doom
Localized: Cradle of Demise

Vocal:

Yuuki Tedokon (手登根 優貴)

Composer:

Raito (来兎)

Lyrics:

RyoRca (綾菓)

Album:
Cradle in Doom (終焉の揺り籠) is the ending theme of Byakuya's arcade mode. It first appeared in the console version of UNDER NIGHT IN-BIRTH Exe:Late.
Tracklist
Music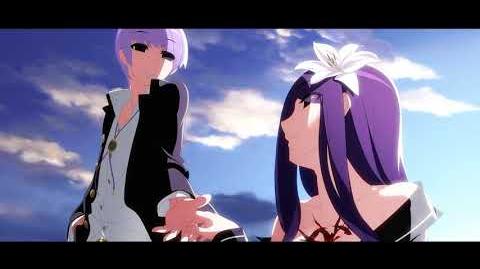 Lyrics
知らない間に忍び寄る
静寂に掻き消える雑音
脆弱な絶望を伴う
絶対温度が生死を分かち
軋みながら歪んでいく
終焉の理繰り返す
何度も何度でも蘇っては また壊れる

深く深く堕ちてく そして
巡る輪廻の夢路
眠った体温 消える肉体

溶けて亡くなった
わたしの願い
吐き出して流れてゆく
歪む終焉の揺籃

散り散りになった
わたしの身体
そしてまた生まれ変わる

魂が果てるまで
魂が果てるまで
shiranai aida ni shinobiyoru
seijaku ni kakikieru zatsuon
zeijaku na zetsubou wo tomonau
zettaiondo ga seishi wo wakachi
kishiminagara yugandeiku
shuuen (sekai) no kotowari kurikaesu
nandomo nandodemo yomigaette wa mata kowareru

fukaku fukaku ochiteku soshite
meguru rin'ne no yume
nemutta taion kieru inochi

tokete nakunatta
watashi no negai
hakidashite nagareteyuku
hizumu shuuen (sekai) no yurikago

chirichiri ni natta
watashi no karada
soshite mata umarekawaru

kokoro ga hateru made
kokoro ga hateru made
It draws near before I even notice
The noises that disappear silently
and the frail despair accompanied by
the absolute temperature which divides living from dead.
The creaking distorting continues
to repeat the ways of demise.
No matter how many times I'm resurrected, I'll just break once more.

Falling into a deep, very deep
and eternally repeating cycle of dreams.
While I sleep, both warmth and life fade from my body.

My wish has completely melted away.
When I vomit, the distorted cradle of demise flow out.

My body has been shred to many pieces.
And once again, I shall be reborn.

Until my heart finally breaks...
Until my heart finally breaks...